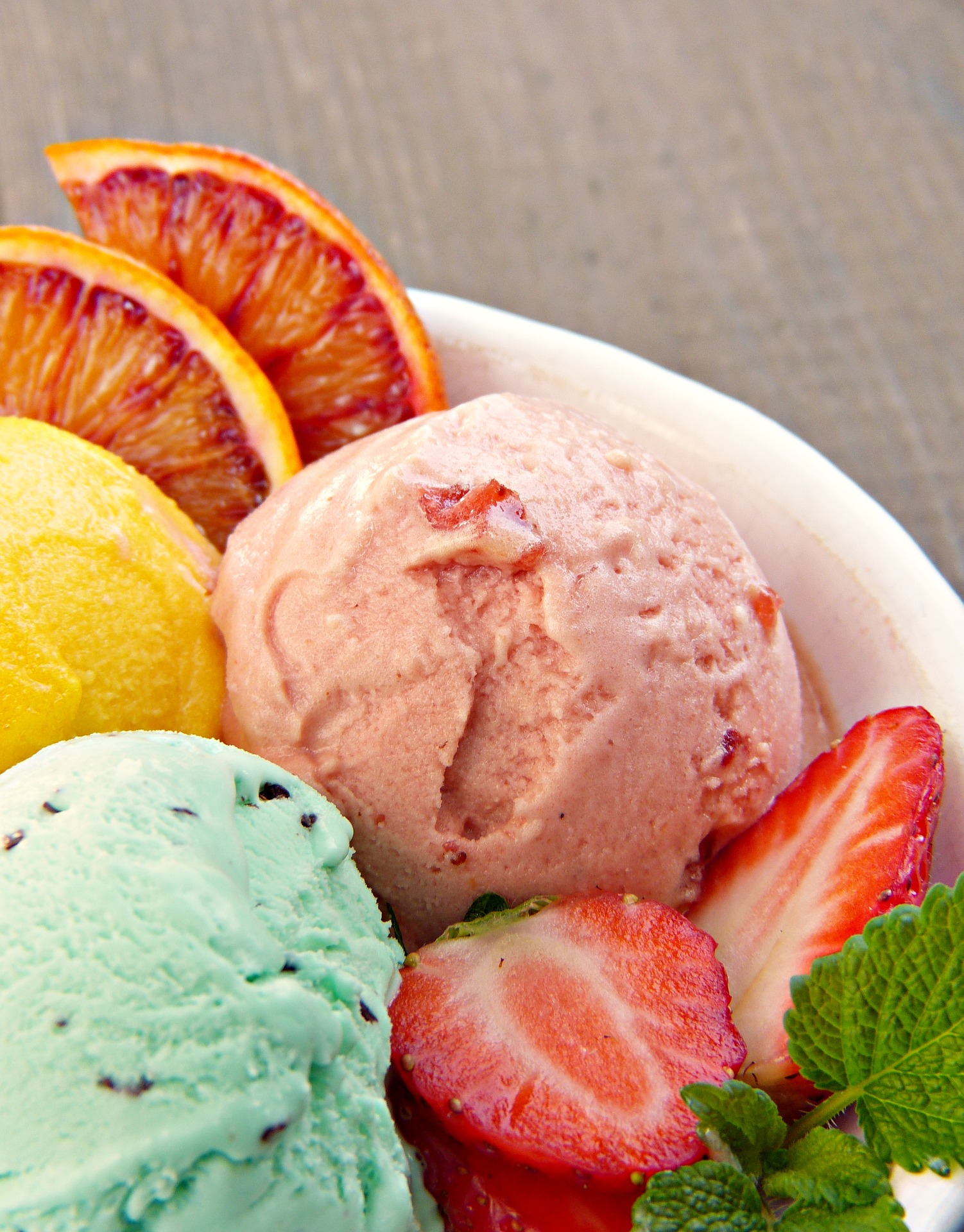 If summer is Chandler then ice cream is Joey, you just can't imagine one without the other. Summer season and ice creams share a very special bond. Ice creams are always good to go in hot and humid weather pattern of Indian states. But due to use of chemicals and unhygienic methods, quality has become equally important now-a-days along with flavors. Don't worry, I am not going to ask you drop off your favorite desert just like that. Instead, I will give you an insight into homemade world of ice creams in this article.  A super cool alternative it is, isn't it ? Many of you have already begun to picture your favorite flavor in front of you with a spoon. Let's start freezing then!
1.Mango Ice Cream :
The king of fruits is finally here! I can guarantee that mango is the most waited fruit of all times. We eagerly wait for summer to come so that we can savor mangoes. As soon as summer passes off, the only reason we look forward to it is, again mangoes. Indians are just crazy about mangoes.  Mangoes are known to prevent constipation and improve digestion as it contains digestive enzymes like terpenes. So, let's learn how to make this yummy recipe at home.

Take some fresh mangoes, peel and chop them into small cubes. Put these mango cubes in a mixture and some vanilla extract and sugar and blend into a smooth paste. In a bowl, take cream and whip it until smooth. Then add the mango mix into this,  add some jaggery and mix well. Pour in a container, cover it and place it in the freezer for few hours ( until the mix is half frozen). Take the mixture out and whip again and refrigerate for few more hours. This helps in improving the texture of ice cream. You can repeat this process 1-2 times more if required. Once set, take it out from the freezer and serve with chocolate syrup , nuts or whatever you like the most!

Make your homemade ice cream healthy with our nutritious jaggery variety. You will surely love the flavor and taste our Karupatti brings to food items.
Buy Nutritious And Authentic Karupatti Online – Buy Now!
2.Custard Ice Cream Recipe :
This one is super yummy. A treat which any ice cream lover will enjoy. Start by freezing bowl, beater and cream for at least 24-30 hours. Add custard powder in a bowl and 3-4 teaspoons of milk. Mix well and keep aside for further use. Next, heat some milk in a pan, add sugar and stir till it dissolves.Then, add the custard milk slowly in few batches and keep mixing so that no lumps are formed. Boil this mixture on medium flame until it becomes thick. Remove it from flame and keep aside to cool.

Then, take out the chilled cream and whip it nicely. Mix the custard mixture well, to avoid lump formation. Next, mix these two together and add few drops of vanilla extract. Mix everything again nicely by using a spatula. Cover the bowl and freeze until it sets (12-16 hours). Scoop the ice cream and serve with your favorite nuts. Treat your guests this season with this  tasty version of custard.
3.Banana Ice Cream :
Banana lovers! your favorite flavored ice cream is here. Blend  few ripe bananas in a blender along with some drops of honey. Take it out in a bowl and add whipped cream. Fold the mixture until its smooth and freeze until it sets. Serve with chocolate syrup and raisins.

Banana is the ultimate powerhouse of nutrients. It lowers blood pressure and cures constipation. Bananas thicken the stomach layer and thereby prevent stomach ulcers.
 4.Green Tea Ice cream :
If you are our regular reader, you are already aware of the benefits of green tea. The most healthy twist that can be brought to your favorite dessert is this. Green Tea ice cream is a must try for everyone. It boosts immunity and also prevents cold and flu.

Add 3-4 teaspoons of green tea powder in a bowl. Add few teaspoons of hot water, stir well and allow it to cool. In another bowl, whip a cup of cold cream. Now mix the prepared green tea mix with 1/2 cup of sweet condensed milk.   Add this mix into whipped cream and begin to fold until a smooth and even paste is ready. Put in the refrigerator until its half frozen. Take out and fold again. Freeze till its completely done and serve chilled. Give your yummy green tea ice cream a pinch of health. Use fresh munnar green tea and feel the difference.
Buy Fresh Munnar Green Tea Online – Buy Now!
5.Coconut Ice Cream :
Coconut is something which  is loved by all. Especially kids seem to truly enjoy the flavor of coconut. This recipe is perfect for summer season as coconut water improves metabolism and aids digestion. It is also known for treating dehydration. So, next time if your kids ask for ice cream, surprise them with this. Combine 1 cup milk and 1 cup of coconut water in a blender and blend thoroughly. Add in cream and 1/2 cup of coconut flakes. Mix well and freeze until it sets completely. Scoop it out and serve.

Wanna make it more delicious? Chop some of your favorite fruits – orange, apple or strawberry, whatever you like and serve along with this yummy coconut delicacy.

6.Mint Ice Cream :
Mint should be in your must-eat list during summer. It improves overall digestion and removes toxins from the body. Mint ice cream is yummy and super healthy for you in this hot weather. Take a large bowl and add milk , cream with some peppermint extract. Next, add vanilla extract, sugar and salt and mix well. Pour into an ice cream tray and freeze for 30-45 minutes. Take it out and put into a container. Freeze until it sets. Garnish with some lemon wedges and mint leaves. Serve with some chocolate chips or chocolates flakes.

So, are you ready to make ice cream in your kitchen ? Try these yummy homemade recipes of ice cream and let us know how you enjoyed it!
Stay Happy And Healthy This Summer!
External Reference :