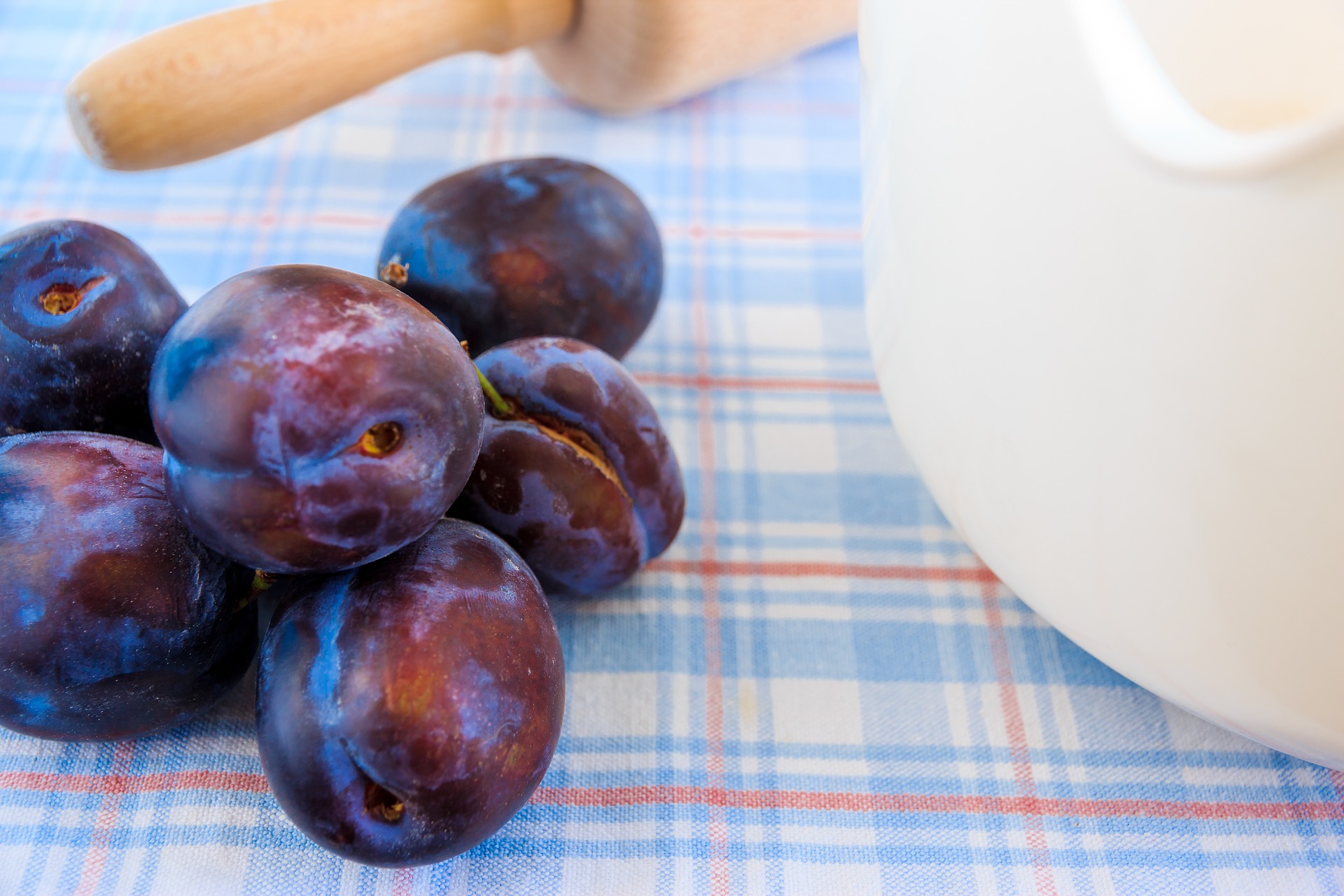 We usually eat cakes during birthdays, festive occasions or marriages. But do the foodie inside you really need a reason to dig into world's most favourite sweet dish? Definitely not! So, explore  with me some easy and different ways to cook your favourite plum cake recipe at home. I am pretty sure you will enjoy reading and cooking this as well. So, plum cake lovers let's begin!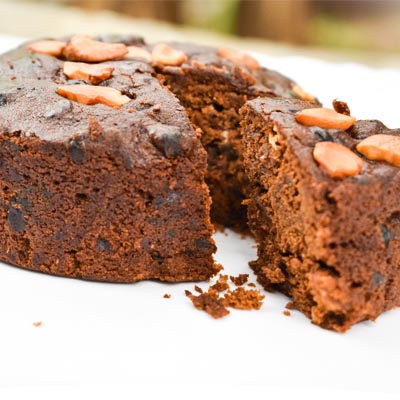 1.Plum Cake In Cooker:
You love to bake but you don't have an oven? Don't worry, you can make yummy plum cake without oven too. Caramelise sugar in a pan and add some chopped fruits (fresh or dry plums, almonds, raisins and cashew nuts). Boil these dry fruits in the syrup for few minutes and switch off the flame. Remove the mixture and separate the syrup from the fruits. Allow the caramel syrup to cool for a while. Next, cover the cooked dry fruits slightly with little all purpose flour and keep aside.

Then, grease a 9″ cake tin and keep aside for later use. In a bowl, mix flour, baking powder and baking soda together. In another small bowl, separate the egg yolks from the whites. Beat the egg yolks with few drops of vanilla essence until it gets fluffy. In a bowl, whisk cream butter and sugar well. Now, add the egg yolk mixture slowly along with the flour mixture. Combine well until it becomes smooth. Then, add the prepared caramel syrup and spice powder and mix well. Next, add the dry fruits and combine the whole batter nicely.

Baking cake in cooker:
Whisk the egg whites well and add to the cake batter. Add some butter to the greased cake tin and dust some flour. Remove the excess flour.  Pour the cake batter until 3/4 of the tin is filled. Set the mixture well by tapping the tin and add renainiredry fruits. Now, add 1.5 cups of salt to a pressure cooker. Remove whistle from the cooker. Place one plate over the salt and close the cooker. Heat this for 10 minutes on high flame. Then, place the cake tin carefully over the plate and cover with a lid. Turn the flame to medium and cook for 40-45 minutes. Check your cake inbetween with a toothpick .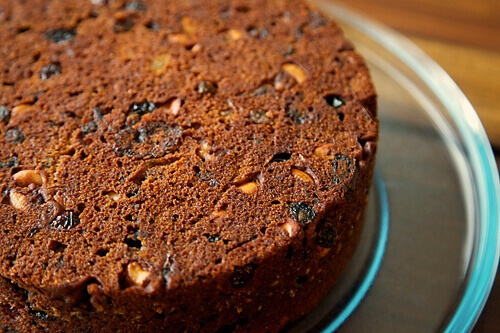 When the cake is done, take it out and let it cool nicely . Your yummy plum cake is ready to eat!
2.Plum Cup Cakes:
Who doesn't enjoy this small bunch of happiness? And if blended with delicious plum and nuts, this is sure going to be amazing! Firstly, preheat the oven at 375f or 190°c. Take a bowl and cream 1/2 butter and 1/2 sugar until fluffy. Take sugar as per your taste. Add 2 eggs into this mixture, one at a time.

In another bowl, mix 2 cups of flour with 1/2 tsp salt and 2 tsp baking powder. Add 50% of the flour mixture to the egg batter along with 1/2 cup milk. Add the remaining flour along with another 1/2 cup of milk. Beat well and add few drops of vanilla.

Add 7-8 chopped plums to the batter along with your favourite nuts. Grease 8-10 cup cake tins and add the batter. Bake for 18-20 minutes and serve after cooling!
3. Bread style plum cake:
So you don't wanna bake but still want to enjoy the flavour of plum and nuts? Then, this one's for you! Take 5-6 slices of Brown bread and cut the edges. Keep the slices aside for later use.
Plum Jam:
Take a big bowl and add 45-50 chopped plums into it. Add 4-5 cups of sugar to the it and mix well. Let this mixture to sit aside for 1 hour. Add the plums and sugar to pan and cook. Boil this mixture and keep stirring from time to time.

After the mixture boils, cook on low flame for 8-10 minutes. Then, turn off the heat and let it cool till room temperature. Boil the mixture in the same way for 3-4 times to get tasty jam mix. You can use ready-made jam as well. But home-made plum jams add a unique flavour to the recipe.

Now take the bread slices and apply a layer of plum jams. Sprinkle some nuts and keep another layer of bread. Apply plum jam and sprinkle nuts. Repeat the process until you have covered the remaining slices. Cut into 4 pieces, carefully with a knife and serve. This super easy and yummy recipe will surely make you fall in love with it!
4. Tarts and plum:
For this tasty recipe, you can use ready-made tarts or you can make your own crispy tarts at home. Let me give you an insight on how to make tarts at home.

Home-made Tarts:
Heat the oven at 350°F. Add 7-8 tblsp of melted butter to a bowl along with 3.5 tblsp of sugar. Now, add a pinch of salt and mix well. Add 1.5 cups of all purpose flour and combine well into a soft dough.
Take a 9″ tart pan and sprinkle some flour. Now, put the dough and spread evenly alongside the pan. Press with fingers and spread nicely. Cover the tart pan with a plastic wrap and refrigerate it for 30-35 minutes. Next, prick it up with a fork and bake for about 20-25 minutes. Remove from oven and let it cool. Once cooled, remove from the pan.

Pour some plum jam on the tart and spread. Add your favourite nuts and some freshly chopped plums. You can add some chocolate syrup as well. This yummy recipe will be the show stopper in all your parties!
5. Ice cream-plum cake sandwich:
And the easiest recipe is here! Take a rectangle shaped plum cake and cut into medium sized slices. Now, take one slice and add a slice of vanilla ice cream over it. Take another cake Slice and cover the ice cream.

Make more such ice cream sandwiches and pour some chocolate syrup. Chill it in the refrigerator for 20-25 minutes. Take out and serve with chopped almonds. Kids will definitely enjoy this chilled dessert! You can make this sandwich super yummy by using our delicious plum cake.
Buy Yummy Plum Cake online- Buy Now!
Your favourite plum cake recipe with so many twists! I am pretty you have enjoyed reading it. Now, try these recipes and share your experiences with us.
Happy Cooking!
Stay Healthy And Happy This season!
External Reference: