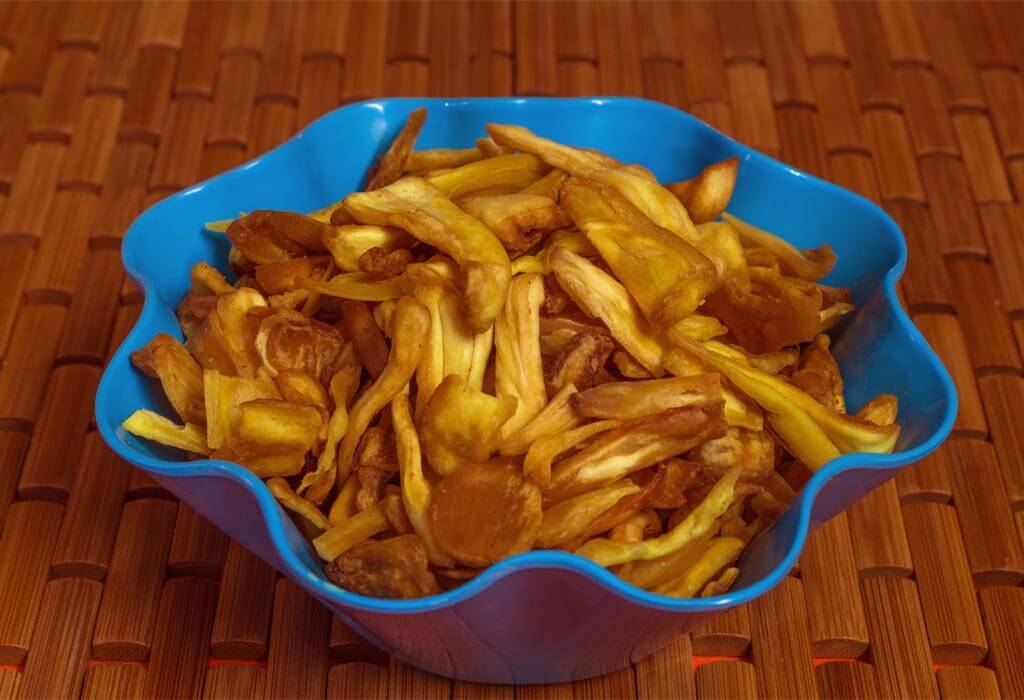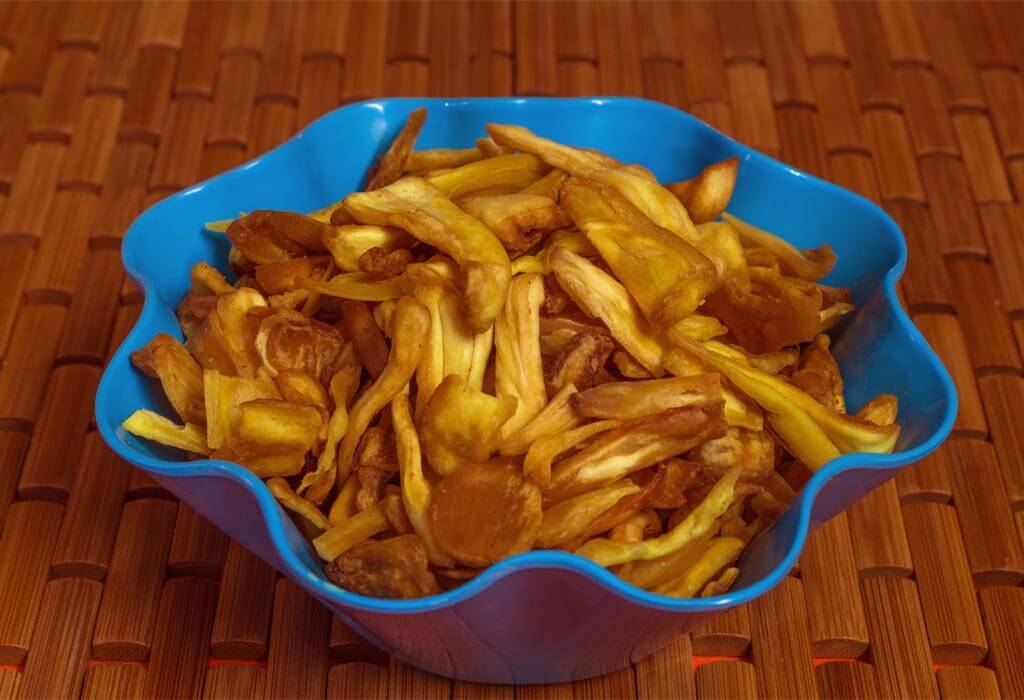 Jackfruit Chips as the name suggests, these are the chips made out of the inner edible pieces of a Jack fruit. To make it a delicious recipe, we add all the secret traditional ingredients while preparing this snack. The taste varies based upon the type and the quality of the Jack fruit being used. It also depends upon the age of the Jack fruit. E.g. – if it is ripe then the taste is different when compared to the chips prepared from a less ripe or a raw Jack fruit. Jack fruit chips are also as famous as Banana chips and are produced in Kerala and Tamil Nadu. If we go with the nutritional value, they are not in any aspect inferior to Banana chips. Jackfruit chips are highly nutritional and are good for health. Their fibre content helps in good digestion. These are crispy and are usually plain salted to keep the original flavour and taste intact. The long yet strong chips when consumed give a mouthwatering crispy and crunchy taste that you can enjoy with tea or coffee. Apart from being a tasty and crispy snack, it also has all the nutrients that you can find in a Jack Fruit.
If you try to make it at home, you will find the whole process very difficult and cumbersome. The process of preparing jack fruit chips involves cutting fresh jack fruit (This is very difficult as it gives out latex that sticks to your hands and are very hard to remove) then removing the inner edible fruits and then removing the inner seeds to make it seedless. Then, it also involves cutting the fruit into smaller yet long pieces which are then fried along with the salt and masala. The whole process is very tedious. Also, the final product made at home may not have the same aroma, taste and crunch as you get from the one purchased from the market.
To make your life easier, we at The South Indian Store are here with an online store where you just need to place an order with a few mouse clicks and we will prepare, pack and deliver Fresh Jack fruit chips right at your doorsteps. Our experts will take care of all the tedious processes involved in the preparation of Jack fruit chips for you. Sounds good? Jump in now and place your order to taste those crunchy and crispy Jack fruit chips today.