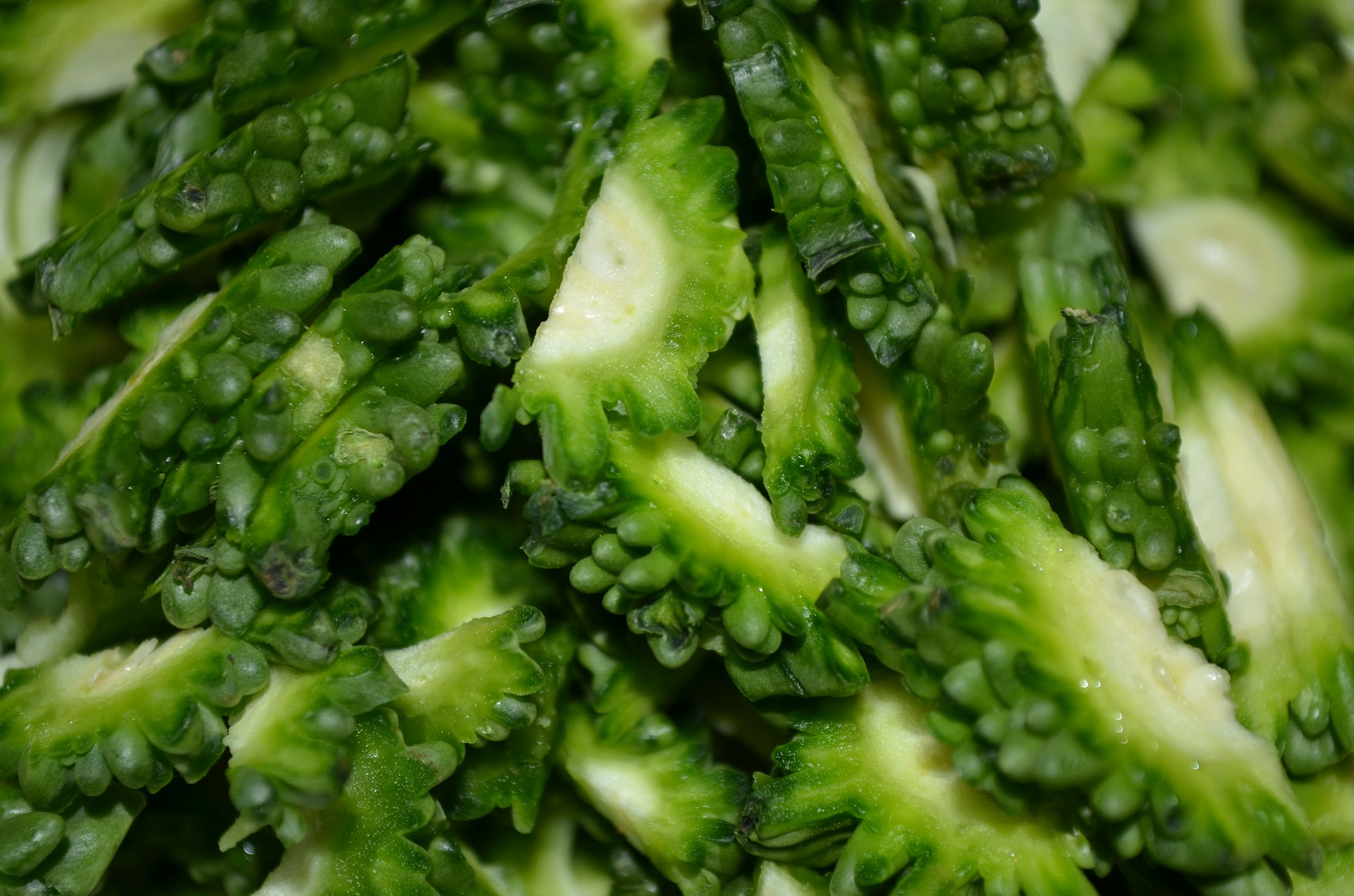 Nutritious for all, loved by few and disliked by many, bitter gourd is an important part of Indian cuisine. Grown in several parts of the country, it belongs to the family cucurbitaceae. This green vegetable is popularly known as "Karela" or "Pavakkai" across India. It is bitter in taste but is very healthy. You will usually find doctors and health experts suggesting to include bitter gourd in our regular diet. Let's find out what is it that makes this vegetable so healthy and a must-eat!

BENEFITS
1.Boosts Immunity :
Bitter gourd has high content of vitamin C, which helps to boost immunity. Its anti-viral and anti-inflammatory properties makes the immune system stronger. Stronger immune system increases the capacity of body to fight diseases and keeps the body healthy. Eat bitter ground at least thrice a weak for a strong and healthy body.
2.Improves Vision :
Most of you may have heard about this from your grand parents. Bitter gourd is excellent for eyes and helps in taking good care of them. So, what it is that makes karela so good for eyes?
It contains essential nutrients like vitamin A and beta-carotene which improves the vision. It is also rich in vitamin c and protects your eyes from oxidative damage. Bitter gourd also prevents eye disorders like cataract and other age-related vision disabilities.

3.Improves Digestion :
One small mistake in your diet, and you end up upsetting your digestive system. This is something which happens to most of us during summer. Any way to cure it?
Yes, there is! Bitter gourd can be a very effective in improving digestion. It contains dietary fibers, which help in boosting up the digestion process and also prevents digestive disorders. The anthelmintic contents of bitter gourd help in killing harmful worms and thereby protect our stomach.
4.Good For Diabetic Patients :
Bitter gourd contains certain types of phytonutrients, which has been found to mimic the activity of insulin. This helps in lowering of blood sugar level in diabetic patients. It also contains some phenolic compounds and certain phytochemicals like lipids and steroids. All this together contribute to the anti-diabetic properties of Karela.
TIP : Diabetic patients can eat it raw by cutting it into small pieces or can consume it in the form of juice.
You can make bitter gourd juice by chopping them off and grinding them with some salt, a cup of water and a pinch of pepper. Add lemon juice if required.

5.Ultimate Blood Purifier :
Bitter gourd is very essential in removing toxins from the blood. Its anti-microbial and anti-oxidant properties help in preventing many blood related disorders. Bitter gourd purifies the blood and thereby reduces many skin disorders like acne and pimples.
It improves blood circulation and is also beneficial in reducing high blood pressure level. People suffering from hypertension must dig into this vegetable for relief.
Eating bitter gourd just like that can be very difficult for most of you, right ? That's why I have prepared a list of bitter gourd recipes for you people. Let's learn how to turn this bitter veggie into something tasty.
1.Bitter Gourd Chips :
Cut the bitter gourd into thin, round shapes and add some salt. Now, mix it well and keep it aside to rest for 1-2 hours. Next squeeze out as much as moisture as possible and dry them on tissue papers. Prepare the seasoning by mixing red chilli powder, few tablespoons of chickpea flour and few tablespoons of rice flour in a bowl. Add some black pepper and a pinch of garam masala to it.

Add this mixture to the bitter gourd pieces and mix well. Make sure all the pieces are covered well with the seasoning. Heat some oil in a pan and fry the pieces till they turn crisp. Take them out on a paper towel to remove excess oil. This is a delicious and healthy option for snack time.
2.Pavakkai Masala Fry :
While most of us hate bitter gourd, i have something which will definitely make it one of your favorites. Pavakkai masala fry or Karela masala fry is a popular dish among Indians. Slice bitter gourd into thin round shapes. Heat oil in a pan and add the sliced karela to it. Fry for a while and keep aside for later use. Next add chopped onions to the pan along with some finely chopped garlic and ginger. Fry nicely and add chopped tomatoes.

Also, add oil if required. Add all basic spices including coriander powder, turmeric powder and cumin powder. Keep stirring and add red chilli powder. Cook the spices well for 4-5 minutes. Ads the fried pavakkai along with 1/2 cup of water. Cover with lid and cook for 10-12 minutes. Remove the lid and serve hot with steamed rice.
3. Stuffed Achaari Karela :
Wash the karelas properly, cut them from one side so that you can stuff masalas and close it up. Remove the seeds and apply some mustard oil on outside. Grill them for a while or toss them on a tawa so that they become a bit tender. Next prepare the masala by chopping onions, garlic and ginger into small pieces. Add these veggies along with some coriander seeds, mustard seeds, dry mango powder (aamchur) and dry red chillies in a mixture. Blend nicely into a smooth paste.

Fry the paste in a pan with oil and salt. Now, stuff these masala into the karelas and keep some masala aside. Add oil in a pan along with slit green chillies and few curry leaves.Then, place the stuffed karelas and cook for 5-10 minutes. Add the remaining masala and cook along with karela. Your yummy stuffed achaari karelas are ready to eat! Savour it with paratha, chapati or steamed rice.
4.Bitter Gourd Pickle :
Filled with the goodness of bitter gourd and a blend of tasty spices, this version of pavakkai will surely become your favorite. Buy our variety of bitter gourd pickle and add a twist of flavor to your meals.

Buy Bitter Gourd Pickle Online – Buy Now!
I am pretty sure this article would have changed the way you looked at bitter gourds. Though its bitter but the nutritional benefits that it offers is unbeatable. Try out these amazing recipes and add bitter gourd to your meals. Let us know if it was of any help to you!
Stay Happy And Healthy This Season.