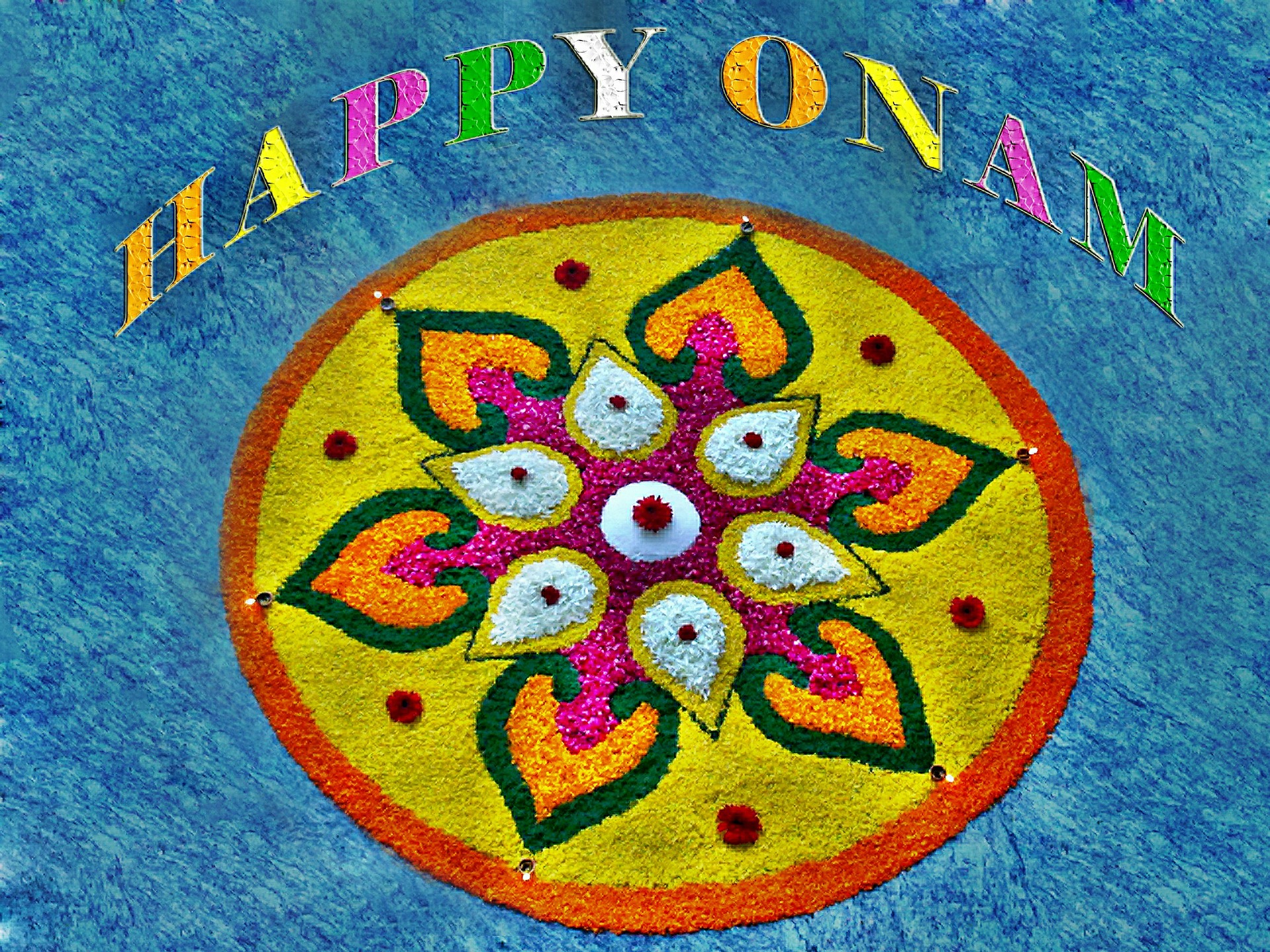 The greatest festival of Kerala is around the corner and the preparations have already begun. Onam festival, the heart of Malayali culture is finally here. Every year during the malayali month of Chingam i.e, August-September, Onam is celebrated all across Kerala with great joy. This year Onam festival is expected to begin on 15th August and end by 27th of the same month. It is basically celebrated to mark the homecoming of king Mahabali.

Dance, decoration, games, everything about onam is amazing. But the best part is Onam Sadya. This is a grand feast cooked and savoured by Malayalis during the festival. It includes all the traditional and delicious recipes from the Kitchen of Kerala. Let's explore what does this festival serves to our tummy!

1.Sharkara Varatti:
Banana alongwith jaggery, is the perfect combination for anyone who loves sweet.
Make a thick jaggery syrup, strain it and keep aside.
Heat a pan and add rice flour.
Roast the flour for 2-3 minutes and keep aside for later use.
Cut banana into thick pieces.
Heat some coconut oil in a pan and fry the banana pieces.
Once it turns light brown, take it out and remove the excess oil.

Now, take the jaggery syrup in another pan and add honey along with some spices ( ginger, jeera and cardamom powder).
Add fried banana pieces and cook for 5-8 minutes.
Make sure the banana pieces get coated well in the jaggery syrup.
Then, add the roasted rice flour to it and mix well.
Cover all the pieces nicely with the flour.
Cool it down and store well in an air-tight container.This version of banana is one of the most enjoyed dish during Onam Sadya. Order our delicious variety of jaggery and enhance the flavour of this sweet delicacy of Onam Sadya.
Buy Delicious Karupatti/Jaggery Online – Buy Now!
If you want to reduce your hardwork and enjoy tasty sharkara varatti at home, then place your order today. We will serve you the best.
Buy Yummy Sharkara Varatti Online – Buy Now!
2. Kootukari:
This curry made with variety of vegetables and served along with rice is a sure treat to veggie lovers.
Firstly chop banana and yam into small pieces.
Cook this with water, turmeric powder and some salt till the pieces become soft and tender.
Soak chana dal overnight and cook in pressure cooker until soft.
Grind coconut, green chillies, cumin seeds and some peppercorn into a paste and keep aside.

Heat a pan and add the cooked veggies with chana and prepared coconut paste.
Add some water and salt and saute for 5-6 minutes.
Next, heat oil in a small pan and add mustard seeds and some red chilly powder.
Add curry leaves and let it splutter.
In another pan, dry roast coconut until dark brown.
Add the tadka and the roasted coconut to the prepared curry and mix well. Enjoy this yummy curry with parotha or chapati during Onam Sadya.
3.Inji Curry:
Made with the goodness of ginger, tamarind and jaggery, this one is cooked in nearly all Malayali kitchens during Onam Sadya. People usually begin their festival by preparing this recipe.
Heat some oil in a pan and add chopped ginger and green chillies.
Cook for 4-5 minutes, cool it down and make a powder.
In another pan, heat some oil and add few mustard seeds.
When the seeds start to crackle, add broken red chillies and curry leaves.

Next, add asafoetida, tamarind pulp and jaggery along with some fenugreek powder.
Then, add some red chilly powder and some water.
Add the ginger powder and boil the mixture.
Cook on low flames till it gets thick.
Cool it down and store in an air-tight container. Serve alongside rice.
4.Pulissery:
Enriched with the flavor of pineapple, this curry is highly recommended for pineapple lovers.
Grind coconut, green chilly and cumin seeds into paste with some water.
Take a big pan and add chopped pineapple, pineapple puree, some turmeric powder and salt to taste.
Next, add some sugar and water and cook until the pineapple is done.

Now, add the coconut paste and mix well.
Bring this mixture to a boil and then remove from heat.
Beat curd in a bowl and add to it.
Mix well and add the tadka seasoning (fried mustard seeds, red chilly and curry leaves). Serve hot with traditional Onam Sadya rice puttu.
5.Rice Puttu:
Plain rice cooked with grated coconut, salt and water. This one is the core of Onam sadya and goes well with all the curries you wanna dig into! Buy our healthy Kerala matta rice and make your Onam feast even more special.
Buy Healthy Kerala Matta Rice Online – Buy Now!

No feast is complete without pickles. We have a variety of pickle enriched with spices for you. Order your favourite one and make this Onam sadya full of flavors.
6.Olan:
Ash gourd aka kumbalanga, pumpkin, black beans and green chillies cooked in coconut milk. This delicious Onam Sadya recipe garnished with curry leaves will make you crave for more.
Cut ash gourd and pumpkin into small pieces.
Cook these vegetables and red gram dal in water.
Then, add green chillies and salt.
When the veggies and dal get cooked, add some coconut milk to it.
Boil the mixture and allow it to thicken.
Then add a little of coconut milk and again boil the mixture.
Add a spoon of coconut oil and some curry leaves to finish the recipe.

7.Lady's Finger Khichdi:
Gone are those days when you cooked khichdi just out of rice and dal. Make this traditional khichdi like curry dish with lady's finger, curd and coconut. Bring the flavours of Kerala on your dining table with this recipe.
Cut lady's finger into small pieces and fry.
Grind some grated coconut, green chilly and mustard.
In a pan, add oil and some mustard seeds, red chillies and curry leaves.

Saute for few seconds, then add 1.5-2 cups of thick curd to it.
Add the ground powder and mix well.
Add fried lady's finger and some salt to taste.
Boil the mixture, then remove from flames. Serve with rice and pappadam. Order now our yummy pappadam and enjoy with your meals.
Buy Fresh Pappadam Online – Buy Now!
8.Medu Vada:
Soak urad dal in water for 1-1.5 hours.
Add the soaked dal in a mixer along with some green chillies, curry leaves, ginger and peppercorns.
Add some salt and hing and grind into a paste.
Put a few drops of oil if required.
Refrigerate the prepared batter for few hours.
Heat oil in a pan for frying the vadas.
Take them out and arrange little batter at a time like vadas.
Fry well and serve with your favorite chutney.

9.Theeyal:
Heat some oil in a pan and fry coconut until light brown.
Add some red chillies along with some coriander and cumin seeds.
Put some peppercorns and fry 3-4 minutes.
Next, add some turmeric powder and saute for few more seconds.
Cool down this mixture and grind into a powder.

In another pan, heat some oil and add some mustard seeds.
Put curry leaves and some more red chillies.
Then, add asafoetida and a cup of sliced onion.
Saute for 4-5 minutes on medium heat.
Add the prepared powder and cook for few more seconds.
Finally, add water and some tamarind extract along with some salt and sugar.
Boil the mixture, then cook on low heat for few minutes. This yummy recipe goes perfectly with rice. Instead of the regular tamarind, you can use our variety of tasty kudampuli in this recipe.
Buy  Healthy Kudampuli Online – Buy Now!
10.Banana Halwa:
Banana halwa is an important sweet dish served during Onam Sadya. You can't finish your meal without digging into this yummy dish. Buy yummy banana halwa online and enjoy with your friends and family.
Buy Fresh Banana Halwa Online – Buy Now!

We also sell variety of other halwa's. Try our yummy jaggery halwa and dates halwa, you will surely love them!
So many recipes to try and so many dishes to dig in. Buy pickles and halwas from us and cook curry at your home. This Onam, give your family the authentic flavours of Malayali cuisine.
Happy Onam to everyone, from the whole team of The South Indian Store! (Stay Happy And Healthy This Festive Season)
External Reference: